When many individuals think of ways to increase the value of their homes, they imagine expensive home improvement projects that they can't afford. Personal loans can be dangerous, so the thought of taking one out is also not ideal. With a home equity loan rates are lower and repayment terms are longer in comparison to a personal loan but would require your house as collateral and enough available equity to use it.
You may be put off by both the cost and the time it takes to complete renovations. On average, renovating a whole house will cost $10 to $60 per square foot. However, if you don't make renovations, you may see a drop in the value of your house when you want to sell it. It's impossible to avoid properly planned home improvements, so how do you do it?
Have no fear! The good news is that you do not need to spend an excessive amount of money in order to make modifications to your home or sell your property. Continue reading to view the comprehensive information on how to raise the value of your California home!
The Best Tips to Increase the Value of Your California Home
Selling a home can be a long, difficult process. Before selling, make sure everything is in order. Most homeowners don't know the difference between 'genuine home improvements' and normal house upkeep or maintenance, yet actual renovations will increase the home's worth and help it sell faster.
Maintenance doesn't increase your home's value but maintains its integrity.
Here are some tips to boost, not just maintain, your home's worth:
Making your home energy-efficient will attract purchasers by lowering their electricity expenditures. Spend a few hundred dollars or borrow against your home. This is an eco-friendly approach to adding value to our home. Eco-friendliness and lower utility bills boost your home's worth.
Even though it is one of the more expensive energy-efficient home improvement alternatives, installing solar panels or batteries will raise the resale value of your property. Solar panels can cost anywhere between $17,000 to $34,000, with the national average cost at $25,633 according to HomeAdvisor.
Consider energy-efficient, cold-weather windows. These windows make your home more eco-friendly. Vinyl windows keep heat out in the summer and in during the winter. Scratch-proof and easy to clean, they're low-maintenance. Vinyl windows are inexpensive, sturdy, and don't rust or need repainting.
Install Energy Efficiency Updates
It is possible to save energy by purchasing energy-efficient appliances. Appliances like dishwashers, washers, dryers, refrigerators, and microwaves could be included.
Talk To a Real State Expert Today!
Durable artificial grass is weatherproof, doesn't dry out or get waterlogged, and is pest-proof.
Choose a Sustainable HVAC System
Prospective buyers love a retrofitted or new HVAC system (Heating, ventilation, and air conditioning). Well-maintained systems reduce energy use and boost property value. If your HVAC is in the attic, seal and insulate it. An insulating spray makes your attic an airtight cooler.
Increase Your Curb Appeal
Need more curb appeal? Your home's exterior might set the tone for what's within. Making your home look nicer and increasing its worth is as simple and affordable as adding curb appeal. The following are some tips to increase your California home curb appeal:
Freshen Your Home's Paint
Fresh paint works wonders inside and out. This is a cheap way to update even the oldest homes. Matching color palettes can unify your home. Bold hues aren't for everyone. Warm, complementing hues that match diverse furniture are preferable.
A little asphalt upkeep can improve your home's curb appeal and your personal enjoyment. Who wants a cracked, rough, potholed driveway?
Low-water landscaping adds aesthetic appeal and saves money. This style of yard is especially ideal for drought-prone California.
Changing your front door is one of the cheapest ways to boost property value. Replacing an existing door with a steel door might increase your home's selling value.
Most purchasers will initially look at a home's garage door. A new garage door has the best ROI (Return On Investment) of any remodeling. Remodeling Magazine reports a 93.8 percent return on garage door replacement.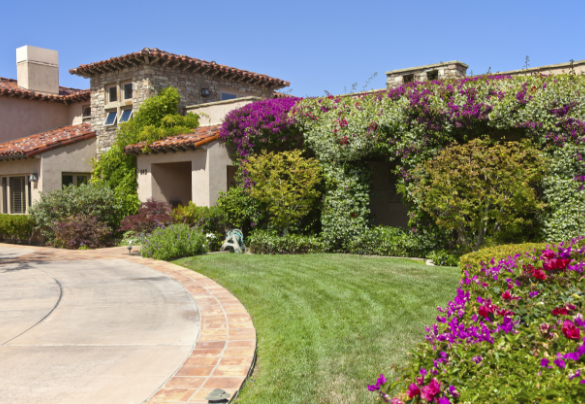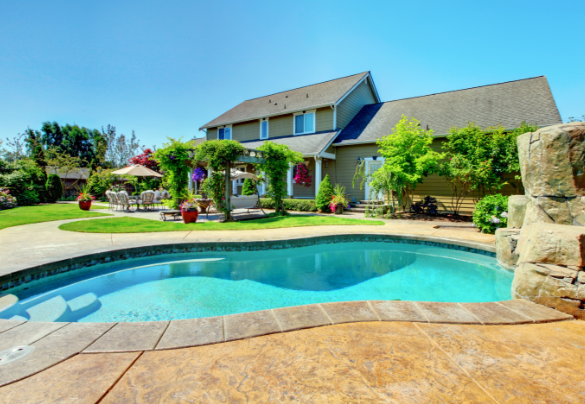 Do Remodeling Inside The House
Doing remodeling inside the house is beneficial for your California home investment. Renovators see a 56 percent return on their investment in remodeling their overall homes, although those who replace things like garage doors or windows can see a 75 percent return on their investment. Apply the following tips in the inside remodeling of your home.
Minor kitchen renovations offer the best ROI. Replacing countertops, upgrading cabinet fronts and hardware, and installing new flooring cost $21,000 on average. New sink, faucet, and a fresh coat of paint can recuperate almost 75% of renovation costs.
Bathroom improvements are affordable. Small adjustments may give any bathroom a new look for little money. Get new bathroom fixtures, faucets, knobs, showerheads, and heated towel racks.
Increasing your home's charm will boost its worth this year. Outdoor living expands your lifestyle into your yard by incorporating outdoor features. It involves cooking, eating, reading, chatting, socializing, and working in your garden. Get a sitting area, dining area, or any amenity designed or used for outdoor living and entertainment.
High-End Additions to the Home
Framed art, chandeliers, and antique furniture can lend luxury to any area. They increase home value and make daily life and weekends more enjoyable. Install any of the following to make your home a better place to offer and live:
Real estate agents and real estate professionals say wood floors enhance home values by 1% to 10%. According to the National Association of Realtors, a hardwood flooring refinish project equates to 147% of value recovered, and new wood flooring is 118%. A decent wood floor may be sanded and refinished ten times. A new solid wood floor can last ten years without upkeep, meaning it can last a lifetime.
Install a Smart Home System
After updating your home and installing new appliances, keep it secure. Home security cameras offer a safe environment and can help you earn insurance reductions, making your home more appealing to potential buyers.
Pools increase home value. They're generally gorgeous and attract consumers, especially parents. A pool is a big expenditure but can increase your home's value. This helps you stand out from homes in your region without pools.
Want To Talk With An Expert?
There is nothing we haven't been able to help with
Add More Space With an Accessory Dwelling Unit (ADU)
Increasing home value by making it feel bigger. Or just make your home bigger. House additions may involve knocking down walls or adding a bathroom. Casitas, pool homes, in-law suites, granny flats, guesthouses and SDUs are ADUs. Detached, attached, and garage conversion. Depending on the style and amount of ADU you install, they can boost resale value.
Install High-Quality Finishes
Even if you don't spend a lot of money on big changes, you can still attract future buyers with small changes that don't cost much. These things are:
Changing door knobs: Replace old brass doorknobs with new ones made of brushed nickel or chrome.
Upgrading light fixtures and bulbs: Think about LED lighting, which could add 1% to 3% to your home's value and keep you from having to change bulbs as often.
Low-Cost Improvements To Your Home
The process of selling a house can take a while. Learn how to increase the worth of your house within your means and on budget. Here are a few tips:
Improvements aren't always cosmetic. Deteriorating roofs, termite infestations, and antiquated electrical systems can't be fixed if nobody notices. Hire a house inspector to check out hidden areas. Hidden faults may lower your home's value.
Plan for the near future with a landscape project that will mature over time. Mature trees make your property more desirable and can save money on cooling expenses by up to 40%.
Get Rid of Popcorn Ceiling
How's your ceiling? Popcorn ceilings are among the most dated home features. Spend a weekend updating your home's look and value. Before starting this job, have your ceiling tested for asbestos.
It is our goal at Sell My Home Fast to make your home-selling experience as painless as possible, so you can reap all of the benefits of selling without using a real estate agent and having to worry about commissions, hidden fees, pricey significant repairs, or any strings attached. Are you looking to increase the value of your California home? Let us help you and contact our team today!
If  you have any further questions, please contact our team at Sell My Home Fast and let us assist you.